Art of Convening Core Training: Sep 30, Oct 14, 28, Nov 11, 25, Dec 9, 16
Art of Convening Core Training: Sep 30, Oct 14, 28, Nov 11, 25, Dec 9, 16 -
$ 595.00
Seven, 2-hour LIVE Zoom training sessions led by Craig Neal
founder, The Art of Convening Trainings, lead author, The Art of Convening: Authentic Engagement in Meetings, Gatherings and Conversations book
With disruption in every aspect of your life, stay authentically connected to your team, colleagues, family or friends remotely.

Learn the art and science of designing and convening meetings that matter and work to grow your leadership and express your purpose. Over 25+ years of convening, we've learned that meetings don't have to be a waste of time, whether virtual or in-person. 15 years ago we pioneered the virtual Art of Convening Training to prove it.
Make a Difference
One Meeting and Conversation at a Time
Meetings and conversations are the lifeblood of any organization. The Art of Convening™ (AoC) teaches the 9 Steps to Collaboration: the art and science of putting your purpose into action to design and lead meetings and conversations that are inspirational, productive and transformative.
Unleash your EQ to Accelerate Your Growth: People don't quit jobs, they quit managers. By becoming a better leader you increase your chances of keeping good people and inspiring them to their best contribution.
Take Back Your Time: If you're thinking, "I don't have time to take a course on leadership," then the best thing you could do is take this course. You'll learn the operating system that will make you more effective in everything you do.
It Starts with You: Learn how the skills of inner game of being a convener can shift the culture of your team, department or organization to full-on commitment. You have to invest in your own development as a leader to continue to contribute for positive impact and outcomes.
A Lasting Impact: Truly great leaders help the people they lead reach their full potential. You know that leader that changed the course of your life? What if you could be that leader for someone else?
Each step is a journey into personal and professional learning and application of the technology of relationships.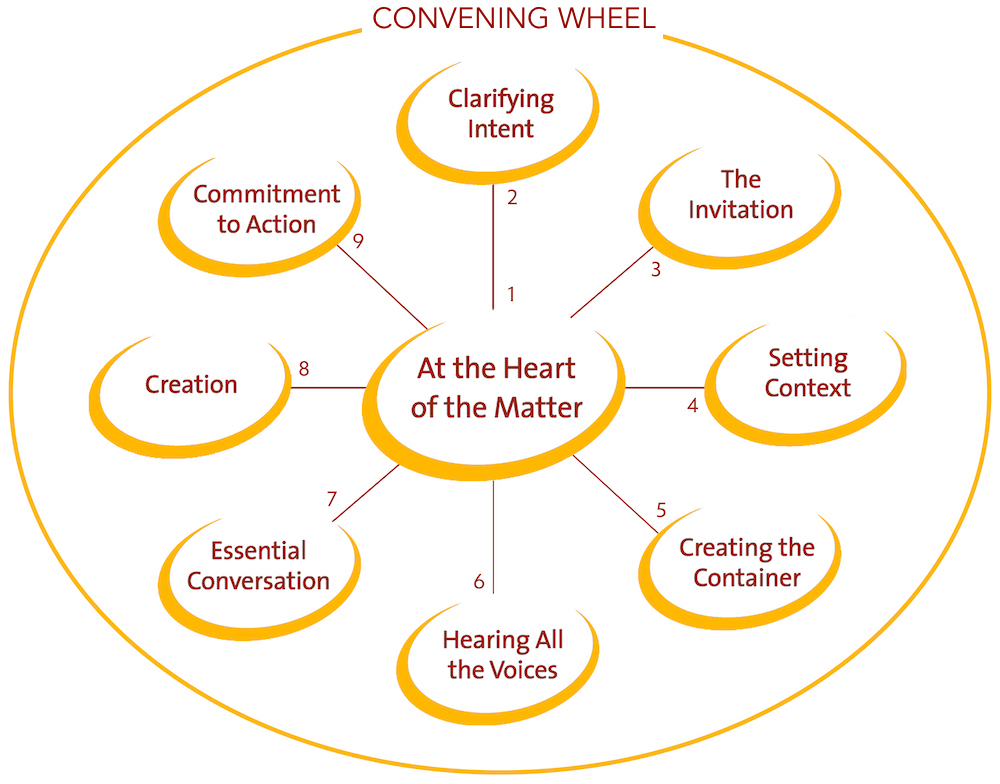 Dates of Training Sessions on Zoom
Sep 16, 30, Oct 14, 28, Nov 11, 25, Dec 9
Wednesdays 6:00-8:00pm Central US Time Converter
Course Price: $595
What you can expect to get out of this AoC Training?
Seven, 2-hour LIVE training sessions led by Craig Neal that utilize live ZOOM video and authentic engagement to produce these outcomes:
LEARNING: You will be part of a collaborative learning community of other professionals dedicated to supporting your work in the world sharing best practices and practical learnings.
KNOWLEDGE & PRACTICE: You will gain a solid foundation in Convening principles & practices required to become a confident Convener both virtually and in-person. You will have a clear understanding how to apply the nine Aspects of the Convening Wheel as a practical pathway to bring authentic engagement to the meetings, gatherings and conversations you lead.
INTEGRATION: You will have a greater sense of how to integrate your inner journey with your role as leader/Convener and inspired catalyst for change in your life and work.
INFLUENCE: You will increase your capacity to step out into the world in a more powerful way to inspire maximum creativity and innovation. Build new "muscles" of listening, collaboration, leadership.
NEW LEADERSHIP CAPACITY: Leadership is an inside game. Learn the foundations of great leadership.
"Convening is different from facilitation. By definition, facilitation is 'the process of making things easy or easier.' Conveners invite participants to co-create the highest possible outcome for a meeting or gathering."
— Craig Neal
YOUR CONVENING TEAM
Craig Neal, Co-Founder, CEO
Author of The Art of Convening: Authentic Engagement in Meetings, Gatherings, and Conversations
Art of Convening™ Originator and Lead Trainer
Patricia Neal, Co-Founder & President
Co-author of The Art of Convening: Authentic Engagement in Meetings, Gatherings, and Conversations
Co-founder, The Convening Institute
Art of Convening© Certified Convening Leader
https://centerforpurposefulleadership.com/aoc-trainings-core